"It is impossible for ideas to compete in the marketplace if no forum for
their presentation is provided or available." Thomas Mann, 1896
---
The Downtown Marriott Hotel in Los Angeles, California

IT Regulatory Compliance & Risk Management

With Experts provided by: Brabeion Software Corporation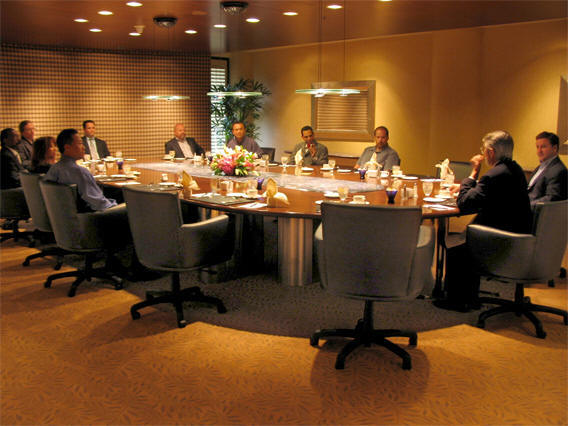 Those accepting our invitation to attend included:

Software Director - Sempra Energy * Security Consulting Engineer � British Telecom - Infonet Services Corporation * Information Security Officer - Manufacturers Bank * Director, Government Security - The Aerospace Corporation * Information Technology Director - Singer, Lewak, Greenbaum & Goldstein, LLP * Director Information Technology Security - LAC + USC Healthcare Network * Principal - Thomas Resolutions * Principal Administrative Analyst � Los Angeles Unified School District * Information Technology Director - The Walt Disney Company Senior Security Analyst - The Walt Disney Company * Los Angeles County Auditor-Controller's Office- Los Angeles County * Security Manager - Paul Hastings Janovsky & Walker, LLP * Information Security Engineer Farmers Insurance - Zurich Financial Services * Network Manager � Los Angeles County - Department of Health Services * Information Technology Security Director - Paramount Pictures
---
For the benefit of those of our members and supporters who could not
attend the meeting we present the following white papers, with contacts
---
IT Regulatory Compliance & Risk Management
Contributed by Brabeion Software, Inc.
Author: David Lacey
Organizations today are waking up to the realities of managing a fast-moving business in a permanent regime of complex regulatory compliance. SOX, HIPPA, Basel II and a myriad of other regulations are driving companies to implement sophisticated compliance frameworks in record timescales and with unprecedented levels of budget and resource. Compliance functions are on a steep learning curve to design cost-efficient processes that can be easily repeated across a changing business and technology landscape. Organizations are asking the question. How can we reduce the ongoing cost and complexity of compliance? The answer is: By taking a smarter approach that draws on established best practices and exploits the tools and knowledge base that already exists.. This paper sets out the principles and pointers to enable organizations to develop an efficient, long-lasting and adaptable compliance framework that will mitigate risks, reduce the costs of incidents, and meet the requirements of the most demanding auditors.
---
Contributed by Brabeion Software, Inc.
---
For further information contact:
Jon Brody
Brabeion Software Corporation
8444 Westpark Drive, Suite 250
McLean, VA 22102


Search Our Site
Search the ENTIRE Business Forum site. Search includes the Business
Forum Library, The Business Forum Journal and the Calendar Pages.
---
Disclaimer
The Business Forum, its Officers, partners, and all other
parties with which it deals, or is associated with, accept
absolutely no responsibility whatsoever, nor any liability,
for what is published on this web site. Please refer to:
---
Home Calendar The Business Forum Journal Features Concept History
Library Formats Guest Testimonials Client Testimonials Experts Search
News Wire Join Why Sponsor Tell-A-Friend Contact The Business Forum

---
The Business Forum
9297 Burton Way, Suite 100
Beverly Hills, CA 90210
Tel: 310-550-1984 Fax: 310-550-6121
[email protected]
webmaster: [email protected]