"It is impossible for ideas to compete in the marketplace if no forum for
their presentation is provided or available" - Thomas Mann, 1896
---
The Value of Human Capital Management (HCM)
Driving business success by optimizing your employee's performance
For Human Resources, Financial & Operations Decision Makers

Sponsor: Nextera
Los Angeles - Thursday, May 31st, 2001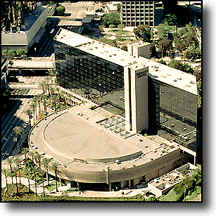 Los Angeles Marriott Hotel
333 S Figueroa St, Los Angeles, CA
Driving Instructions to The Los Angeles Marriott Hotel
RESERVATION REQUIRED - Luncheon Meeting - 11:45am until 1:30pm
The topic of this Business Forum Luncheon discussion will be the application of IDM and controlling employee absence and disability
HR Directors need to get the attention of the CEO and CFO of their organization to recognize the value of IDM is now paramount, especially since the economy is now experiencing an obvious downturn. If we cannot manage our most valuable resource "our employees", then all corporate goals and profits are jeopardized. Human Resources professionals have talked about it for years, but we are not always able to convincingly "prove" that IDM works to those who control the purse strings

Management and Operations Executives need to know the disability and absence costs and the ways to measure, correct and monitor for improvement. Learning how to do it, backed up by other organizations' experiences can help a great deal.
This will be an open discussion, rather than a presentation, it will allow for the input of experiences and in depth analysis of the opportunities and pitfalls facing HR Directors in the changing world of staffing. In particular it will cover such things as evaluation, hiring, retention, morale, and policy setting and cultures - as well as multi-location procedure controls.
This will be a closed meeting and numbers will be limited to ensure that everyone has the opportunity to participate in the discussion.
There is of course no cost and no obligation placed upon
our guests by attending and valet parking will be paid.
---
Registration Form:
Click Here For Hotel Directions
---
Home
Calendar
The Business Forum Journal
Features
Concept
History
Library
Formats
Guest Testimonials
Client Testimonials
Experts
Search
Why Join
Why Sponsor
News Wire
Y2K
Join
Tell-A-Friend
Contact The Business Forum
---
The Business Forum, Inc.
9297 Burton Way, Suite 100 Beverly Hills, CA 90210

Tel: 310-550-1984 Fax: 310-550-6121
[email protected]
Webmaster: bruceclay.com