Please Scroll Down




"It is impossible for ideas to compete in the marketplace if no forum for
their presentation is provided or available" Thomas Mann, 1896
---
A Business Forum Focus Group Luncheon
San Francisco
, California

Wednesday, November 17th, 2010 ~ 11:45am to 1:30pm
With Zobrist Consulting Group and IBM Corporation
---
Social Networking & Mobile eCommerce
Facebook, LinkedIn and Myspace, etc. have now become channels directing billions of dollars of spending into organizations all over the world. During this discussion you will have the opportunity to hear what your peers are doing and be able to ask questions of some of the leading experts on Mobile and Social eCommerce that provide resources to exploit this technology. This interactive luncheon debate is designed to help

CIO's, CTO's, CISO's and Sales &

Marketing Directors

take advantage of this emerging market opportunity.
---

The Saint Francis Hotel
Click on Picture of Hotel for details

335 Powell Street, San Francisco
The Saint Francis Suite

---
If you have questions regarding this event, call 310-550-1984 or email [email protected]

There is of course, absolutely no cost and no obligation whatsoever
placed upon our guests who attend and valet parking will be paid.
A RESERVATION IS REQUIRED
Registration Form
FOR YOUR SECURITY, ONLY YOUR ORGANIZATION NAME WILL APPEAR ON YOUR CONFIRMATION
---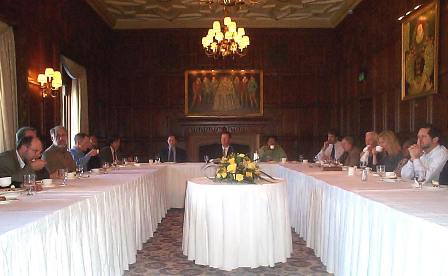 Focus Group Luncheons seat guests around an open square table. This format has proved perfectly suited for discussions regarding services and presentations on new law or tax changes, where each question requires a detailed answer. It allows eye contact for a larger group of people.
---
Home Calendar The Business Forum Journal Features
Concept History Library Formats Guest Testimonials
Client Testimonials Experts Search News Wire Join
Why Sponsor Tell-A-Friend Contact The Business Forum
---
The Business Forum



Beverly Hills, California United States of America

Email: [email protected]

Graphics by DawsonDesign

Webmaster: bruceclay.com

---
© Copyright The Business Forum Institute 1982 - 2010 All rights reserved.