"It is impossible for ideas to compete in the marketplace if no forum for
their presentation is provided or available." Thomas Mann, 1896
---
A Business Forum Round Table Luncheon
The Downtown Marriott Hotel in Los Angeles, California
A Multi-Layer Approach to Information Systems Security
With Experts provided by: Array Networks, Inc.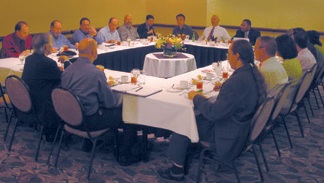 ---
For the benefit of those of our members and supporters who could not
attend the meeting we present the following white papers, with contacts
---

SSL VPN Embraced by Large Enterprises

Virtual Private Networks or VPNs allow corporate enterprises to extend access to their internal networks to external employees and partners over standard Internet public networks. The primary reason VPNs came to be was the immensely expensive lease line solutions. An enterprise had to have a physically closed network connection between its partners and remote employees, either through dial-up RAS (Remote Access Server) solutions into the enterprise network, or lease fractional T1 type connections between remote offices and partners.

VPNs are the enabling technology which allows clients (employees) and partners to use standard public Internet ISPs and high-speed lines to access closed private networks. A common misconception is that VPNs are always IPSec protocol solutions. In fact, there are many encryption and security protocols which offer the functionality of a VPN. SSL is one such protocol.

A Multi-Layer Approach to Security

Array employs a defense in-depth approach to security with a multi-layer SSL firewall built on Array's proprietary SpeedStackTM which is a networking architecture where every single flow (associated stream of packets) is inspected in both directions. Inspection of packets is done at multiple layers of the OSI stack. However, the beauty of the architecture lies in the underlying implementation where no data is ever copied or otherwise moved around, and all duplication of work is eliminated. If a certain piece of work has already been done at a certain layer and the information is required for a subsequent piece of work at a different layer, the information is made available without the second layer needing to repeat the same work.

---
Visit the Speakers Web Site
Inquiry Only - No Cost Or Obligation
---
Visit The Business Forum Home Page
---


Search Our Site
Search the ENTIRE Business Forum site. Search includes the Business
Forum Library, The Business Forum Journal and the Calendar Pages.
---
Disclaimer
The Business Forum, its Officers, partners, and all other
parties with which it deals, or is associated with, accept
absolutely no responsibility whatsoever, nor any liability,
for what is published on this web site. Please refer to:
---
Home Calendar The Business Forum Journal Features Concept History
Library Formats Guest Testimonials Client Testimonials Experts Search
News Wire Join Why Sponsor Tell-A-Friend Contact The Business Forum

---
The Business Forum
9297 Burton Way, Suite 100
Beverly Hills, CA 90210
Tel: 310-550-1984 Fax: 310-550-6121
[email protected]
webmaster: bruceclay.com