"It is impossible for ideas to compete in the marketplace if no forum for
their presentation is provided or available." Thomas Mann, 1896
---
A Business Forum Round Table Luncheon
The River Place Hotel in Portland, Oregon
Sarbanes-Oxley Act Compliance Factors
With Experts provided by: IBM Tivoli Group
<![if !vml]>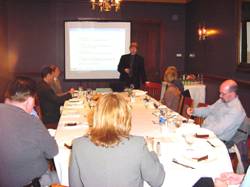 <![endif]>

Those accepting our invitation to attend included: Director of Information Systems - American Steel Corporation Controller - American Steel Corporation * Director Information Systems - Gunderson Inc. * Software Support Supervisor - Monaco Coach Corporation * Senior Council - Pacific Corporation * Compliance Manager - RadiSys Corporation * State Controller - State of Oregon * Chief Information Security Officer - State of Oregon * Statewide Financial Internal Control Officer - Oregon State Controller's Division * Information Security Officer - State of Oregon - Department of Human Services * Information Security Project Manager – State of Oregon, Department of Human Services * Internal Audit & Information Security Officer - Oregon State Treasury * Director, Business Controls - The Regence Group
---
Contact for further Information:
IBM Tivoli Group
Bob Kalka
IBM - Tivoli Group
512.286.3525

[email protected]
---
For the benefit of those of our members and supporters who could not
attend the meeting we present the following white papers, with contacts
---
Addressing the Key Implications of Sarbanes-Oxley
Contributed by IBM - Tivoli Group
The Sarbanes-Oxley Act of 2002 (SOX) introduced significant changes to financial practice and corporate management regulation. Passed in the wake of numerous corporate scandals, SOX is a complex piece of legislation that requires companies to make major changes to bring their organizations into compliance. The act holds top executives personally responsible for the accuracy and timeliness of their company's financial data — under threat of criminal prosecution. Thus, SOX compliance has become a top priority for
publicly traded companies.
The act also sets deadlines for compliance, all of which will take effect during the next two years. Of the sections already in effect, the most publicized has been Section 302, implemented in August 2002, which requires CEOs and CFOs to personally certify quarterly and annual financial statements. The first indictment of a CEO for failure to comply with the act occurred in 2003. This is just the tip of the iceberg — violating SOX can bring fines up to $5 million or 20 years in prison.
---
Contact for further Information:
Bob Kalka
Business Unit Executive
IBM – Tivoli Group
Tel: 512-286-3525
---


Search Our Site
Search the ENTIRE Business Forum site. Search includes the Business
Forum Library, The Business Forum Journal and the Calendar Pages.
---
Disclaimer
The Business Forum, its Officers, partners, and all other
parties with which it deals, or is associated with, accept
absolutely no responsibility whatsoever, nor any liability,
for what is published on this web site. Please refer to:
---
Home Calendar The Business Forum Journal Features Concept History
Library Formats Guest Testimonials Client Testimonials Experts Search
News Wire Join Why Sponsor Tell-A-Friend Contact The Business Forum

---
The Business Forum
9297 Burton Way, Suite 100
Beverly Hills, CA 90210
Tel: 310-550-1984 Fax: 310-550-6121
[email protected]
webmaster: bruceclay.com