"It is impossible for ideas to compete in the marketplace if no forum for
their presentation is provided or available." Thomas Mann, 1896
---
Enterprise Security Architecture Security Diagnosis
Sponsored by: Deloitte & Touché, LLP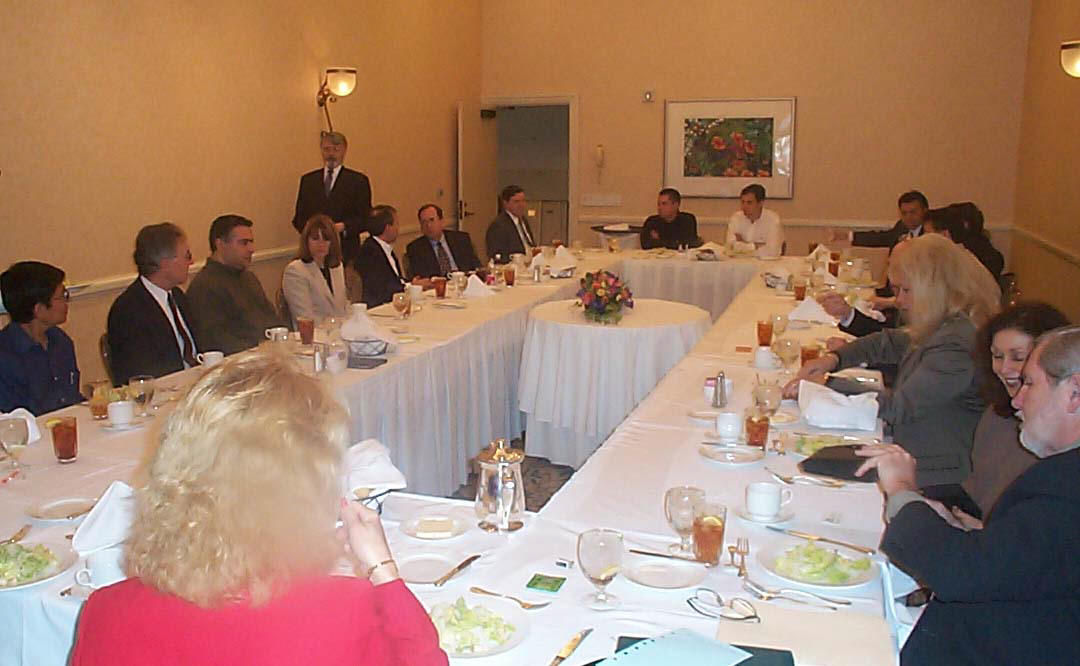 The Business Forum recently organized a
Forum luncheon for Deloitte & Touché,
at the Westin South Coast Plaza Hotel,
in Costa Mesa, California.

Those accepting our invitation included:
Technology Development Manager - Anaheim Public Utilities * Group Manager Enterprise Applications - Auto Club of Southern California * Manager Information Protection - Auto Club of Southern California * IT Corporate Audit Manager - Beckman Coulter Corporation * Information System Director - C J Segerstrom & Sons Inc. * Communications Operations Manager - City of Costa Mesa * Senior Director of Information Systems - Clarion Corporation of America * Manager Records - Coast Community College District * Director Managed Services - Comdyn Group Information Security Advisor - County of Orange * Director IT, Business Continuation Planning Experian * Senior Technical Consultant - Experian * Principal - Global Capital Markets Inc. Director Information Services Department - Orange County Department of Education * Senior Business System Director - Orange County Transportation Authority * Chief Information Security Officer - Pacific Life Insurance Company * Manager System Software - Parker Aerospace Group Information Service Manager - Rancho Santiago Community College District * Senior Vice President - Ricoh Electronics, Inc. * Vice President Information Technology - Ricoh Electronics, Inc. * Manager Technical Services - Toshiba America Electronic Components Inc.
For the benefit of those of our members and supporters who could not
attend the meeting we present the following link to relevant information.
---
For further information:
Contact: Scott Plutko
Local : 714-436-7424
---
Visit the Authors Web Site
Inquiry Only - No Cost Or Obligation
---


Search Our Site
Search the ENTIRE Business Forum site. Search includes the Business
Forum Library, The Business Forum Journal and the Calendar Pages.
---
Disclaimer
The Business Forum, its Officers, partners, and all other
parties with which it deals, or is associated with, accept
absolutely no responsibility whatsoever, nor any liability,
for what is published on this web site. Please refer to:
---
Home Calendar The Business Forum Journal Features Concept History
Library Formats Guest Testimonials Client Testimonials Experts Search
News Wire Join Why Sponsor Tell-A-Friend Contact The Business Forum

---
The Business Forum
9297 Burton Way, Suite 100
Beverly Hills, CA 90210
Tel: 310-550-1984 Fax: 310-550-6121
[email protected]
webmaster: [email protected]