"It is impossible for ideas to compete in the marketplace if no forum for
their presentation is provided or available." Thomas Mann, 1896
---
Proactive Web Site Management

Sponsored by: Rackspace Enterprise Hosting Division, Intensive Hosting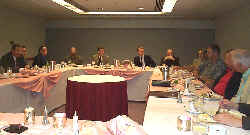 The Business Forum recently organized a
Forum Luncheon discussion for Intensive
Hosting at The Wilshire Grand Hotel, in
Los Angeles, California.

Those accepting our invitation included:

Vice President - Biztek Company * President - Bruce Clay, LLC * Professor of Information Systems - California State University, Los Angeles * CEO - Ciance Corporation * Administrator City of Inglewood * Webmaster - City of Inglewood * VP of Marketing - Cooperative of American Physician Inc. * VP, Member Relationship Management - Cooperative of American Physicians, Inc. * VP of Sales - Designers Fountain of Lighting Creation * IT Director - DHX Inc. VP of Operations - E Entertainment Television * Quality Programs Manager - Infonet Services Corporation * CEO - International Field Works, Inc. * President - Jayco Interface Technology, Inc. * VP of Marketing - Memorial Health Services * Financial Advisor - Morgan Stanley President - North Star Company * Director Information Services - Pepperdine School of Law Web Services Manager - Pepperdine School of Law * Managing Partner - RadioWeb Communications, Inc. * Chief Information Officer - The Fashion Institute of Design & Merchandising * IT Dept. Purchasing Agent - The Fashion Institute of Design & Merchandising Production Manager - Waltco Truck Equipment Company * Manager of Western Operations Waltco Truck Equipment Company * WGH Partnership Director - Ultra Violet Products Inc.* Vice President - Union Bank California * VP of Information Systems - William O'Neil & Company
---
For the benefit of those of our members and supporters who could
not attend the meeting we include a link to a Microsoft Case Study
about Interactive Hosting that was discussed during this meeting.
http://www.microsoft.com/serviceproviders/casestudies/rackspace.asp

---
Visit the Authors Web Site
Inquiry Only - No Cost Or Obligation
---


Search Our Site
Search the ENTIRE Business Forum site. Search includes the Business
Forum Library, The Business Forum Journal and the Calendar Pages.
---
Disclaimer
The Business Forum, its Officers, partners, and all other
parties with which it deals, or is associated with, accept
absolutely no responsibility whatsoever, nor any liability,
for what is published on this web site. Please refer to:
---
Home Calendar The Business Forum Journal Features Concept History
Library Formats Guest Testimonials Client Testimonials Experts Search
News Wire Join Why Sponsor Tell-A-Friend Contact The Business Forum

---
The Business Forum
9297 Burton Way, Suite 100
Beverly Hills, CA 90210
Tel: 310-550-1984 Fax: 310-550-6121
[email protected]
webmaster: bruceclay.com