"It is impossible for ideas to compete in the marketplace if no forum for
their presentation is provided or available" - Thomas Mann, 1896
---
Los Angeles, California
Thursday, July 25th, 2002 - 11:45am to 1:30pm

This will be a Round Table Luncheon Meeting

Connectivity & Integration
for Corporate HRIS & Benefits

Sponsors: Northrop Grumman I.T. & RemoteNet Corporation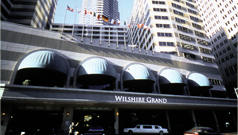 The Wilshire Grand Hotel
930 Wilshire Boulevard, Los Angeles, California 90017
The last decade has seen a revolution in managing Human Resources data, Compensation & Benefits, however it has also been a time of implementing new technologies while maintaining some of the older platforms and systems. So therefore it is no surprise that HR is facing some rather important questions at a time when budgets are not what they were a couple of years ago and blind faith in technology is now the philosophy of those who have little or nothing to do with implementing it, or making it work.
Our experience proves that the following three questions occupy more than a little of the HR and IT conversations these days:
How can I easily connect my internal ERP data to my outsourced Benefits data?



How can I ensure that Personnel data from multiple application sources
are rolling up effectively to a centralized HR repository?



How can I provide more timely and efficient Benefits-related support to
my employees and their families?
So we thought that bringing together a table of HR and IT decision makers with experts from providers who specialize in providing answers for these very questions might make for a very interesting discussion.
Why not join us for lunch and pose your questions to the experts? We in turn will promote an open debate to discuss it all.
There is of course no cost and no obligation whatsoever placed upon
our guests by attending and even their valet parking will be paid.
A RESERVATION IS REQUIRED
Registration Form
FOR YOUR SECURITY ONLY YOUR ORGANIZATION NAME WILL APPEAR ON YOUR CONFIRMATION
Click Here For Hotel Directions
---
Home
Calendar
The Business Forum Journal
Features
Concept
History
Library
Formats
Guest Testimonials
Client Testimonials
Experts
Search
Why Join
Why Sponsor
News Wire
Join
Tell-A-Friend
Contact The Business Forum
---
The Business Forum
9297 Burton Way, Suite 100
Beverly Hills, CA 90212
Tel: 310-550-1984 Fax: 310-550-6121
[email protected]
Webmaster: bruceclay.com