"It is impossible for ideas to compete in the marketplace if no forum for
their presentation is provided or available." Thomas Mann, 1896
---
Costa Mesa, California
Thursday, April 10th, 2003 - 11:45am to 1:30pm
This will be a Round Table Luncheon Meeting
New Trends in Employee Performance Management
Managing Employee Performance to Increase Productivity
Sponsored by: CCHKnowledgePoint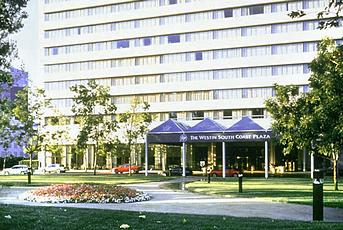 The Westin South Coast Plaza Hotel

Click on Picture of Hotel for details

666 Anton Boulevard, Costa Mesa, California
Driving Instructions to The Westin South Coast Plaza Hotel

With the change in the economy, the media have lately produced a number of articles on the benefits and pitfalls of employee evaluation; also many of our supporters have asked us if we could organize meetings on the subject; therefore in response to the obvious interest, we have located an organization that specializes in software to assist Human Resources professionals in this task.
If employee evaluation has long been a focal point of your organizationís direction in management, or if you have only been considering the following questions lately, this luncheon meeting will give you the opportunity to meet with your peers and discuss the benefits and pitfalls inherent in todayís employee evaluation practices:
1. How do you currently manage the performance of your workforce?
2. How do you really know how well your organization is performing?
3. How do you measure the success of your performance management process?
4. How does your employee productivity compare with your competition?
We would be pleased to have you join us for this lunch if you are a decision maker in Human Resources, H.R.I.S., Finance or Information Technology within your own organization. We would advise you to register as soon as possible as we need to limit the numbers to ensure an in-depth conversation.
There is of course no cost and no obligation whatsoever placed upon
our guests by attending and even their valet parking will be paid.
A Reservation is of course Required
You may complete the form below to register or you can call 310-550-1984
FOR YOUR SECURITY ONLY YOUR ORGANIZATION NAME WILL APPEAR ON YOUR CONFIRMATION
BACK TO SCHEDULE

---
Home Calendar The Business Forum Journal Features Concept History
Library Formats Guest Testimonials Client Testimonials Experts Search
News Wire Join Why Sponsor Tell-A-Friend Contact The Business Forum

---
The Business Forum
9297 Burton Way, Suite 100
Beverly Hills, CA 90210
Tel: 310-550-1984 Fax: 310-550-6121
[email protected]
webmaster: bc
[email protected]