"It is impossible for ideas to compete in the marketplace if no forum for
their presentation is provided or available" - Thomas Mann, 1896
---
The Business Forum Internet Luncheon Discussion
The Los Angeles Marriott Hotel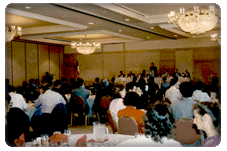 333 South Figueroa Street
Los Angeles

The Westin South Coast Plaza Hotel
666 Anton Boulevard
Costa Mesa

Sponsored by:

BruceClay.com, Cambridge Management Consultants, Cylink Corporation, Kanbay Incorporated, M1 Software Inc., RobFrankel.com, & Sierra Systems Corporation
It was our intention to present the leading experts on the subjects our members have informed us most concern them related to the ever increasing importance of e.commerce to todays' economy. What was only a few months ago an interest in exploiting the Internet as an addition to the major activities of our organizations has become a need to protect oneself from being overtaken by new competitors taking your market share by the introduction of virtual competition, that changes the very playing field of business and communication, (just consider the effect Amazon.com has had on retail booksellers).
Each of the experts made a short presentation on their subject, explaining precisely what they do, why they do it and who they do it for, thereby introducing our guests to a complete overview of each of our chosen subjects. After our experts had introduced themselves they then formed a panel to answer the questions of our guests and members in our usual Luncheon Discussion format.
The panelists have contributed the White Papers listed below for those of our members unable to attend the Forum and both sesions were audio recorded. A combined recording of both sessions (3 hours) is now available.
Some of the comments we received from the guests after the meeting:
"Most interesting topics I have heard in a long time, very exciting - fresh new subjects."
Mike Arkelin, Director of Operations
FMC/Waugh Controls Corporation
"Great work. Excellent. I'll attend more in the future".
Joeseph Tiernan, IS Planning Manager
Orange County Transportation Authority
"Very beneficial. Good knowledge of items discussed (by the experts). It was an insight into e-commerce very helpful for the future."
Rob Linfield, Manager Operational Support
PacifiCare Dental & Vision
"Very Impressive. The speakers were well spoken and knew their material well"
Angela Williams, Administrative Manager
City of Inglewood
For a complete list of those in attendance or requesting information on this topic, click here.
---
White Paper
Audio Tapes
TBF Membership
---
Registration Form:
---

Home Calendar The Business Forum Journal
Features Concept History Library Formats
Guest Testimonials Client Testimonials Experts Search
Why Join Why Sponsor News Wire Join
Tell-A-Friend Contact The Business Forum

---

The Business Forum
9297 Burton Way, Suite 100
Beverly Hills, CA 90212
Tel: 310-550-1984 Fax: 310-550-6121


[email protected]

Webmaster: bruceclay.com