"It is impossible for ideas to compete in the marketplace if no forum
for their presentation is provided or available" - Thomas Mann, 1896
THE 2000 CONFERENCE & LUNCHEON DISCUSSION
INFORMATION TECHNOLOGY - FUTURE WATCH
The Hyatt Regency Hotel
3777 La Jolla Village Drive, San Diego
The Los Angeles Marriott Hotel
333 South Figueroa Street, Los Angeles
The Sutton Place Hotel
4500 Macarthur Blvd, Newport Beach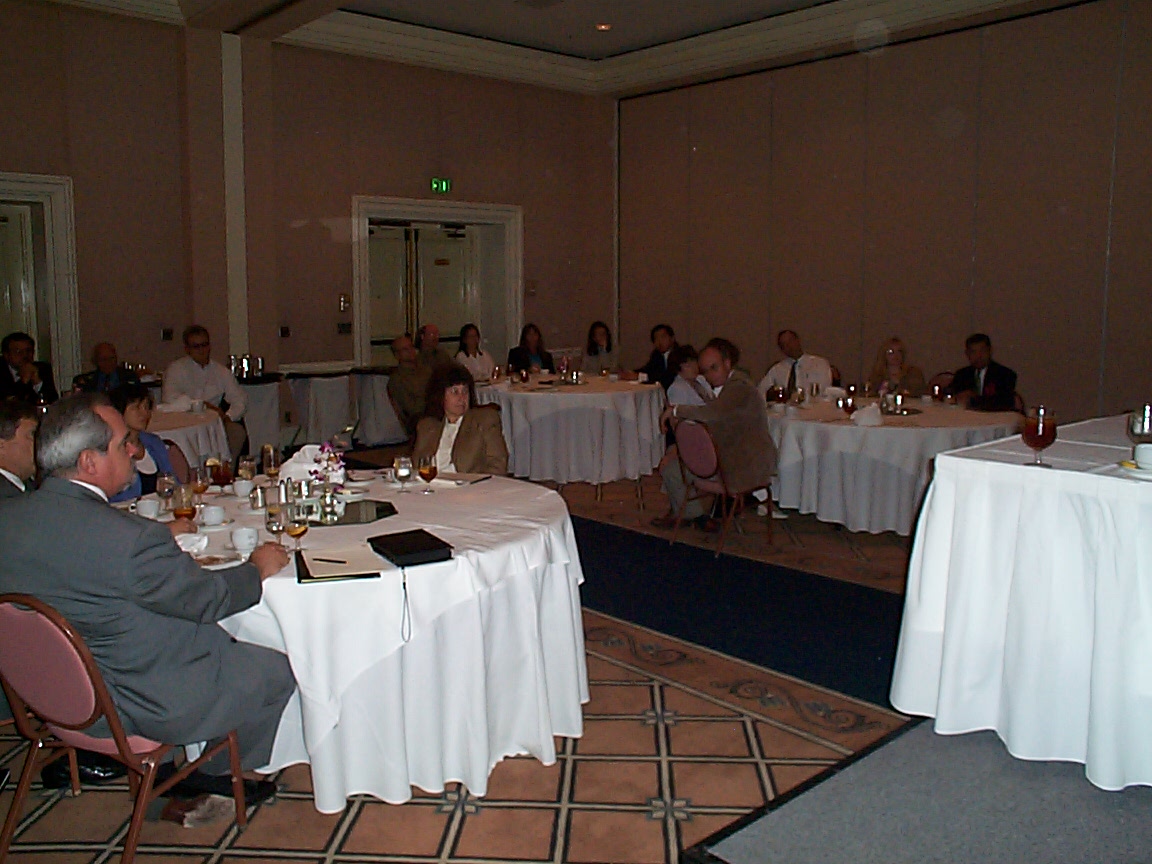 Sponsored by:
Cylink Corporation
Data Return Inc.
Encanto Networks Inc.
Hitachi Software Corporation
Interaction Associates
Microsoft Corporation
One Inc.
Rand Corporation
We intended to present leading experts on the subjects our members had informed us most concerned them when related to the ever increasing importance of Information Technology to today's economy. From the remarks we heard afterwards we were successful.
Each of the experts made a short fifteen minute presentation/lecture on their special subject, explaining what they do, why they do it and for whom they do it, thereby introducing all of our guests to an in-depth overview of each of our chosen subjects for the discussion. After our experts had introduced themselves and their expertise, they then formed a panel and for one and a half hours over a business luncheon they answered the questions of our guests in our usual discussion format.
In the past we have presented speakers from then unknown organizations like Novell, Cisco Systems, Commerce One and Brio Technology, etc. - this year there are also some names you may not have heard of, but we assure you that you will not be disappointed with the information they can provide and there is probably no better way to keep yourself up to date.
Some of the comments we received from the guests after the meeting:
"Good information - very helpful and meaningful! Great meeting!"
Bonnie Woodson, Technology Development Manager
City of Anaheim - Public Utilities
"Very good information. We'll be able to use some info in our facility"
Sharrie Nelson, Director IS
Martin Luther King Jr. Drew Medical Center
"Excellent - Good variety of topics covered - Sessions were very interesting and timely for myself"
Kathy Jenno, Director of Information Systems
City of Torrance
"First time attendee. Very informative and thought provoking"
Steve Glaeser, Director of Information Systems
Anderson Lithograph
For a complete list of those who attended these forums or requested information on this topic because they were unable to attend, click here.
---
White Paper Audio Tapes TBF Membership

---
For Further information on the subject matter described above from the sponsor: Register below for inclusion in future updates and invitations.
---

Home Calendar The Business Forum Journal
Features Concept History Library Formats
Guest Testimonials Client Testimonials Experts Search
Why Join Why Sponsor News Wire Y2K Join
Tell-A-Friend Contact The Business Forum

---

The Business Forum, Inc.

9250 Wilshire Blvd, Suite 220

Beverly Hills, CA 90212

Tel: 310-550-1984 Fax: 310-550-6121

[email protected]

Webmaster: bruceclay.com