"It is impossible for ideas to compete in the marketplace if no forum for
their presentation is provided or available." - Thomas Mann, 1896
Sponsoring a Business Forum Luncheon
Many of our Guests and Members have asked us for details of what it entails to sponsor a Business Forum Luncheon.
For those interested in putting their message before the largest audience of decision makers in the Pacific States of America the following explanation should be useful.
The fact is that since the launch of our website at the beginning of this year our "service" has increased significantly, without any increase in cost. In fact our costs today are exactly the same as they were in 1995, with all the added penetration of the marketplace included - therefore our fees have stayed exactly the same also.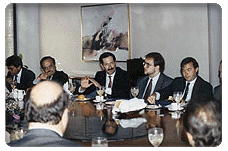 We can however, now provide our sponsors with the ability to reach our entire data base by posting an academic white paper on our web site after the event is held. This white paper can remain on the site for many months, and therefore go on promoting whatever subject the sponsor presented.

Since it's inception The Business Forum has never "made a profit" from the organizations which have sponsored our events. Therefore, as our costs have reduced we have not had to increase the fees we charge to our sponsors.

We cannot guarantee to "increase your growth revenue by 27%

in eight weeks" as we did for Norris Environmental Services, nor can we guarantee to "reduce your marketing costs by 50%" as we did for Axiom, and we cannot even promise that "the most difficult aspect of your involvement with The Business Forum will be the follow-up on too many prospective leads" as Arthur Anderson & Co., Rockwell International and so many of our other past sponsors have experienced. However, we can offer you guarantees that we can undoubtedly get your complete message out to your potential clients and our members for less cost and in less time than any other medium we have yet come across. We can also guarantee that if you spend a couple of hours on our web site, and fully understand our capabilities, then we can probably save you at least a couple of months in "time-to-market" on just about any project you care to present to us.
Most of our sponsors work with us because someone who has worked with us before, (we have been doing this since 1982) makes a good case that they should do so, or someone joins them from an organization that has already sponsored Business Forum Events in the past. We have never had a "sales team", or even a marketing program! Therefore, for someone new to our concept, the idea can sound a little far out, if they do not fully understand the ramifications of what a Business Forum Event can achieve on an ongoing basis over the succeeding months after it is held. However, we have never used sales personnel to promote our services, which must say something for our reputation to produce results for our sponsors, members and supporters.

Therefore, at the request of our members and to answer the numerous enquires we receive each month, we are providing this guide. If you follow the links provided below, (returning to this page using the back arrow after each link, so that you may take the next one) we believe you will be able fully comprehend exactly how we can help just about any organization with a message it needs to get out to the decision makers in business and government throughout the Pacific States of America and, with the Internet, the world.

in their testimonials.


Or comments of guests who have attended Business Forum Events.


There are several different formats we use for

our Events depending upon the subject being presented.


Each time you hold a Business Forum Event we publish an academic

"white paper" for you and notify everyone on our News Wire list:


Your White Paper will then be placed in our Library of White Papers where it remain accessible for at least a year.


You may want to know who our past clients (sponsors) are.


You may want to understand our Concept in more detail.


The Business Forum uses a standard contract with organizations wishing to sponsor a luncheon. You may review it here. Contract.
---
If you want to ask any further questions - call: 310-550-1984
Or email us directly at [email protected]
---
Search the ENTIRE Business Forum site. This search includes the Library, as well as the Calendar Pages. To locate specific text within any selected page, press CTRL-F for your browser FIND function and enter the search text.
---
Home
Calendar
The Business Forum Journal
Features
Concept
History
Library
Formats
Guest Testimonials
Client Testimonials
Experts
Search
Why Join
Why Sponsor
News Wire
Join
Tell-A-Friend
Contact The Business Forum
---
Disclaimer

The Business Forum, it's Officers, partners, members and all other parties with which it deals or is associated with, accept absolutely no responsibility or liability for what is published upon this web site. Please refer to our .
---
The Business Forum
9297 Burton Way, Suite 100
Beverly Hills, CA 90212
Tel: 310-550-1984 Fax: 310-550-6121


[email protected]
Webmaster: bruceclay.com